Out Of Stock
Com-Art Steve Driscoll Flesh Tone Set
Stock:

Out Of Stock

Model:

COM-8-100-14

Weight:

1.49kg
Com-Art
Com-Art Steve Driscoll Flesh Tone Set


[COM-8-100-14]




Com-Art™ water-based acrylic colours are non-toxic and specifically formulated to be ready-to-use in your airbrush, without the need for thinning, filtering or straining.
Steve Driscoll, well-known US portrait artist featured in Airbrush Action Magazine and Airbrush Action instructional DVDs on airbrush portraiture, has now got together with Iwata-Medea to formulate the new Com-Art flesh tone set of colours.
This Com-Art Flesh tone set can be used on any subject, this is perfect for those learning about skin tones and for professional artists.
The set consists of ten 1oz bottles of transparent colours. There are five different flesh tones, Blush Flesh, Peach Flesh, Dull Tan Flesh, Sunwashed Flesh and Olive Flesh. The other five colours in the set (Driscoll's Shade Additive, Smoke, Kelly Green, Bright Red & Violet) are provided as additives for blending with the base flesh tones.
Make yourself a comparison chart by spraying the flesh tone colours light to dark and comparing them to your reference photo to select the right flesh tone. Airbrush the base tones in this colour, then add a few drops of the Bright Red the set as the warm additive for the warm tones. Then go back to the base colour with a few drops Driscoll's Shade Additive to do the shaded areas. There's also Transparent Smoke in the set for darker shading.
There is no tinting white in the set because Steve Driscoll uses the subtractive method for highlights. He uses an array of erasers for soft highlights, electric erasers and knives for harder highlights, removing the layers of paint back to the white canvas or board. This avoids the risk of white paint causing colour shift of the colours underneath.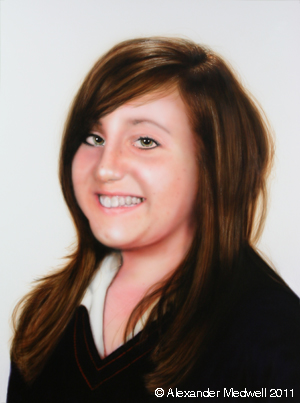 Portrait by Alexander Medwell
using Com-Art™ water-based acrylic colours.
Manufactured by:


The set includes two pamphlets on "How to Blend Colors with the Com-Art Steve Driscoll Flesh Tone Set" and "How to Create a Portrait with the Com-Art Steve Driscoll Flesh Tone Set".
The newly formulated Steve Driscoll colours and Driscoll's Shade additive are also available to buy singularly.
Also available are Steve Driscoll's instructional DVD's Basic Portrait Techniques and Advanced Portrait Techniques.
Transparent colours:
Using the same formulation as the opaque Com-Art colours, the transparents are non-fading, pigmented colours, which can be intermixed with the opaques or sprayed over the top for glazing.
Com-Art colours are excellent for these applications:
Fine Art
Illustration
Resin-cast figure model painting
Craft applications like scrapbooking
Professional artists choose Com-Art colours because of their museum-quality lightfast longevity. They dry instantly to a matte finish, which is especially good for precise colour matching. Plus, opaque and transparent colours can be intermixed without any colour bleeding or show-through problems. Com-Art colours offer tremendous versatility, superior atomisation and breathtaking results.
Additives and Varnish Sealers:
Com-Art Pearlescent Additive
Com-Art Varnish Sealer
| | |
| --- | --- |
| | Manufactured by: |
Com-Art Steve Driscoll Flesh Tone Set contains these items: